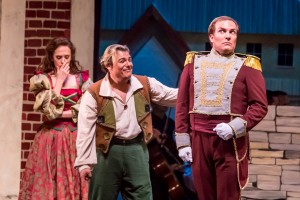 The spring of 2017 will be a thrillingly busy one for Christopher Holloway.  March begins with a series of concerts with Maestro Sforzini and St. Petersburg Opera March 16th, 17th, and 19th.  He will perform operatic favorites from the operas of Verdi and Tchaikovsky, and he will also perform musical theatre standards. Click the earlier link for times and locations.  If you missed his appearances as Belcore in January's production of L'Elisir D'Amore, please plan to join him and his fabulous colleagues for this series.
March 25th finds Mr. Holloway appearing in the Maestro Anton Coppola Centennial Birthday Celebration Concert with Opera Tampa at 7pm at the Straz Center for the Performing Arts.
Christopher appears with Opera Tampa  in two performances as Sciarrone in Puccini's classic Tosca on April 7th and 9th.  He will then travel to Gulfshore Opera to sing in a concert titled, "A Journey in American Song," on April 27th at 7pm where he will perform the world premiere of two beautiful new classical art songs by William Dawson, Jr. based on the poetry of Florida Poet Laureate, Peter Meinke.
On May 6th at 7:30pm, Christopher rejoins the Qol Quartet in a concert of arias, duets, spirituals, and other operatic ensembles at First Methodist Church of Clearwater, FL with Brent Douglas, Pianist.
Christopher will close out May of 2017 and revisit the role of the blood thirsty vampire, Lord Ruthven, in Marschner's Der Vampyr with Scenic City Opera in Chattanooga, Tennessee for six thrilling performances:  May 26th, 27th, 28th and concluding June 2nd, 3rd, and 4th.
More updates to follow!